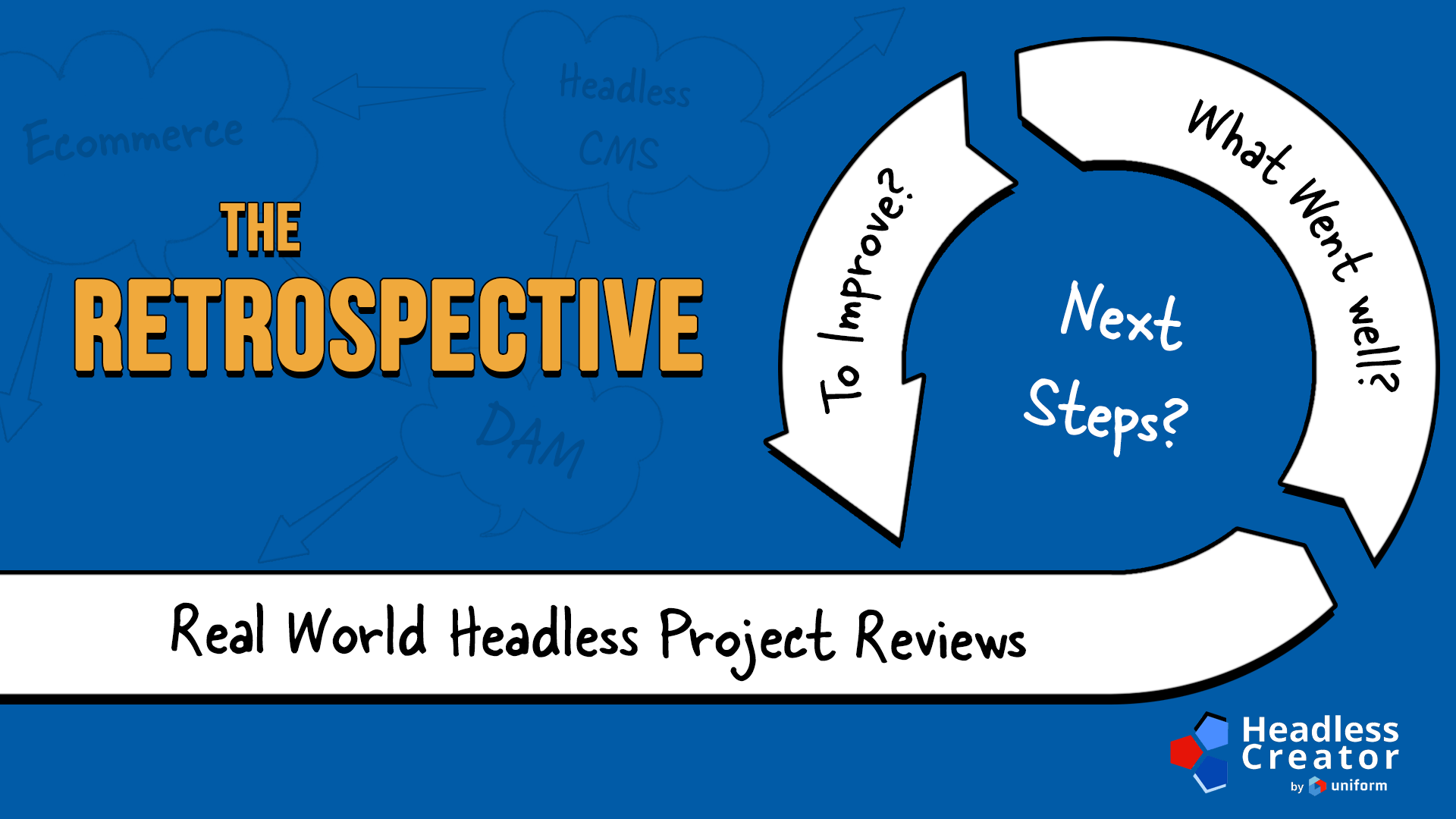 The Retrospective
This course is designed for anyone involved in (or about to get involved in a headless project.

In every episode, we'll get together with the team that implemented a specific headless project and go through a retrospective meeting, live, so that we can learn all about that project, what went well, what the challenges were and what needed to be improved.

It doesn't matter if you are a developer, a product manager, a content architect or a content author, pick a project, watch the live retrospective meeting, and then use that information to improve the success of your upcoming project.


Real world project reviews.
In every episode, you'll learn about a real world project, implemented by a team in a real company. We'll cover the goals of the project and if it was successful or not.
Learn what didn't work.
In a real world project, not everything goes as planned. During the retrospective, we'll see what those challenges were and how (or if) they overcame them.
Learn what worked.
During the retrospective meetings, we'll look at what worked well so that you can use that information in your upcoming project.
Interviews with the project team.
Meet the team behind the project. Learn the roles and knowledge necessary to implement that project and how team members communicated with each other.
Empty space, drag to resize
This course is perfect for...
Marcelo Lewin
Marcelo is passionate about content modeling, so much so, he spends his weekends creating content models for fun! Yes, we know, he needs to get a real hobby! He's also very interested in content governance, content architecting and headless CMS technologies. As a Senior Content Solutions Architect working in Product, he designs content models that are scalable, support single source of truth and are friendly both to developers and content authors alike.
Retrospective Meeting: RETRO #2: Nike DNA Project
Retrospective Meeting: RETRO #1: Eeyo Global Website Project
Empty space, drag to resize
Subscribe to our Newslette

r

Do you enjoy our content?

Sign up for our newsletter that focuses on composable architectures and

headless technologies which are delivered directly to your inbox.